TRANSPORTATION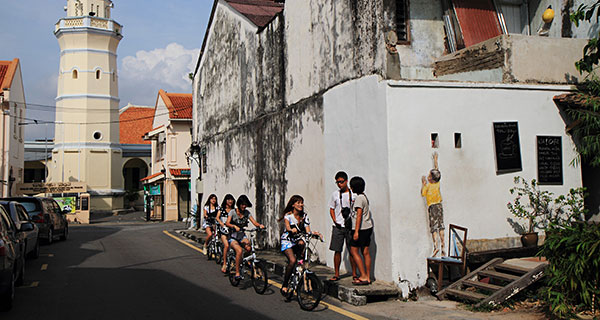 As Penang is so compact, travelling around the island and exploring the mainland is relatively easy whether you choose public transport or rental vehicles. The Rapid Penang bus service offers comprehensive routes around the state; and all buses are air-conditioned. In addition to taxis and e-hailing services, rental cars, motorbikes and bicycles is extremely popular in Penang.
By Air
Penang is easily accessible by air with daily flights from major airports in the country and the region. The Penang International Airport is about 20km from the city centre.
Taxis plying the route follow the coupon system where fares between the airport and various destinations in Penang are fixed.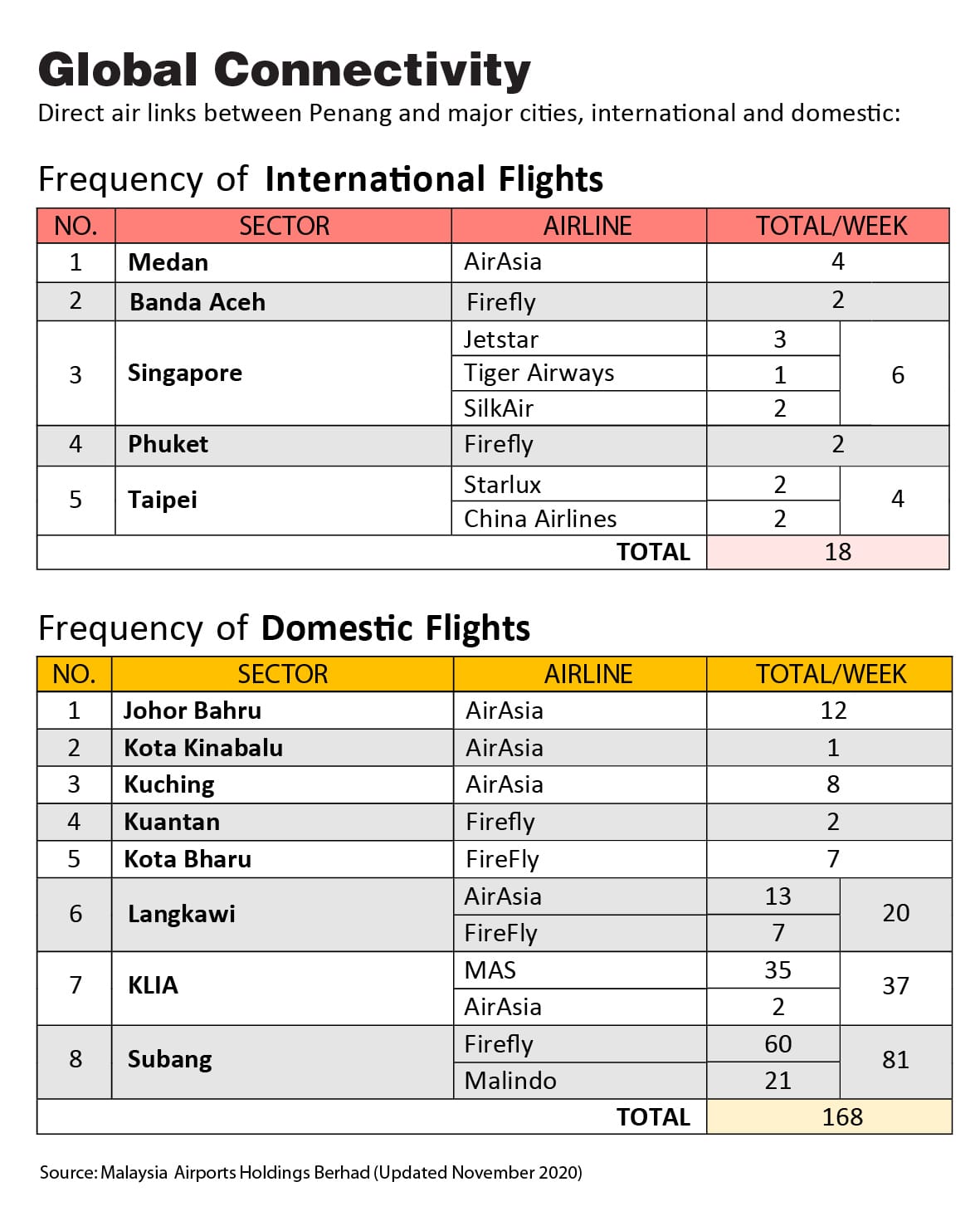 By Road
The North-South Highway connects Penang to major cities on the West side of Peninsular Malaysia. Travel by highway can take anywhere from 4-5 hours with toll charges in between.
By Ferry
The Ferry Terminal or Jetty is where passengers board the ferry that plies between Penang Island and the mainland. Penang Island is just a 20- minute ferry ride from Butterworth. If you are taking a train to Penang from Kuala Lumpur or other cities, you may board the ferry to Penang Island from the ferry terminal at Butterworth, which is located next to the train station. Although it is possible to travel between the island and the mainland via the Penang Bridge, taking the ferry is a memorable experience.
Operating Hours
5.40am - 11.40pm** Departing from Penang island to the mainland*
5.20am-11.40pm** Departing from the mainland to the island
Operating Intervals: 20 minutes
Fare: Adult RM1.20 / Child RM0.60
Note
* Note, the ferry is free of charge from Penang island to the mainland - fare is imposed only from the mainland to the island
** Schedules are an estimation.
By Rail
The journey from Kuala Lumpur to Butterworth takes approximately six hours. Taking the train is a comfortable way to travel within the country and it affords one the opportunity to see a lot of the countryside.
The railway station on mainland Penang connects to the mainline which runs from Bangkok to Johor Bahru (for access from Singapore)
GETTING AROUND
While downtown Penang might be small in size, there are various modes of public transportation available; from trishaws to free shuttle buses, standard city buses and taxis. It is also possible to walk around George Town and its surrounding neighbourhood. Public transportation is also available for more distant attractions out of George Town, such as the Kek Lok Si Temple, Penang Hill and the ones up in Batu Ferringhi and Teluk Bahang or Penang National Park. Do check schedules and fares before deciding on your preferred mode of transport.
Taxis
Taxis are easily available around the island; it is a common means of getting around by visitors. Be sure to agree on a price before boarding the taxi. Start by asking how much it is to get to your destination; you can negotiate on the prices quoted if you feel that they are too high.
E-hailing Services
Apps such as Grab is available in Penang. Simply download the app to start booking your trips. Payment is either by cash or credit/debit card.
Buses
The main public bus service is by Rapid Penang and it covers an extensive area both on the island and mainland. It also operates a Free CAT (Central Area Transit) bus service within George Town. KOMTAR Terminal is the central transfer terminal for buses that cover the whole of Penang Island. Simply ask around or look out for signboards to find out which bus route serves you best. Upon boarding the Rapid Penang bus, inform the driver of your destination, pay the amount required and receive a ticket for your trip. Remember to prepare exact change as no change will be given back as all buses do not carry change for safety reasons.
*Fares are based on distance travelled.
Transportation Card (1-month use)
Fare:
Adult RM110 (Foreigners) RM75 (Malaysians),
Student RM55 (Foreigners) RM35 (Malaysians)
Application Preparation
1 ID photo
1 copy of applicant's passport
1 copy of student ID
fee of RM5
Website: www.rapidpg.com.my
Free CAT Bus
Free CAT Bus (Central Area Transit) is a free shuttle bus service that operates within George Town. It is the most common means of transportation for travellers to get to popular local attractions for free. Trips are at intervals of 15 minutes. Look out for Rapid Penang buses that bear a "Free CAT Bus" sign.
Operating Hours: 6:00am to 11:45pm
Fare: Free
Bus Stops from Ferry Terminal to KOMTAR
2 Ferry Terminal → 3 Little India → 4 Immigration → 5 Bank Negara → 6 Museum → 7 Muntri Street → 8 Campbell Street → 9 KOMTAR
Bus Stops from KOMTAR to Ferry Terminal
9 KOMTAR → 11 Kedah Road → 12 Chowrasta Market → 13 Komtar East → 14 Carnarvon Street → 15 Kampung Kolam → 16 Penang Supreme Court → 17 Dewan Sri Pinang → 18 Fort Cornwallis → 19 Downing Street → 1 Weld Quay → 2 Ferry Terminal
Trishaws
Driven purely on manpower, the iconic trishaw is great for going around George Town. Opt for a trishaw ride if you enjoy breezy rides. Be sure to agree on a price before starting your journey. The average rate is RM30 per hour for two-persons, depending on the distance between starting and ending points.
Rent-A-Car
Renting a car offers great flexibility and convenience. They are charged by daily rate – all you have to do is pay a deposit and the car is yours to go anywhere with. Car rentals are available around town – most hotels can hook you up with one.
Europcar Rental
Tel: +6012 329 3010
Hawk Penang Rent-A-Car
Tel: +6016 207 6536
Hertz Car Rental
Tel: +604 226 8602
Kasina Rent-A-Car
Tel: +604 228 8602
La Belle Rent-A-Car
Tel: +604 264 2717
Mayflower Car Rental
Tel: +604 641 1191
New Bob Rent-A-Ca
Tel: +604 226 6111
Orix Penang Rent-A-Car
Tel: +604 644 4772
Rent-A-Bike/Bicycle
Bicycles and motorcycles also offer inexpensive and fun ways of exploring the island. There is a shared bike system in the city and its surroundings, and other bike rentals are also available along the hotel stretch of Batu Ferringhi.